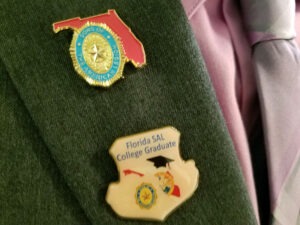 Now Accepting Applications for the 2018 Florida S.A.L. College!
The Detachment Member Training & Development Committee is announcing to everyone that we are now accepting Legion Family applications for the Florida SAL College, Class of 2018.
This is open to any member of The American Legion Family in good standing and does not cost anything to attend the class. Members wishing to attend must complete a Florida SAL College Application using the link below and submit it for the MT&D Committee to review.
The session is tentatively scheduled for March 24 & 25, 2018 at Department Headquarters in Orlando.
DEADLINE FOR SUBMISSION IS FEBRUARY 1, 2018!
Click the button below to apply online. Please help us fill the class by getting the word out to your Post Family and encourage them to sign up.
REMEMBER: This is NOT a course about the S.A.L. – this is a leadership and communications course that will benefit you in your daily life.